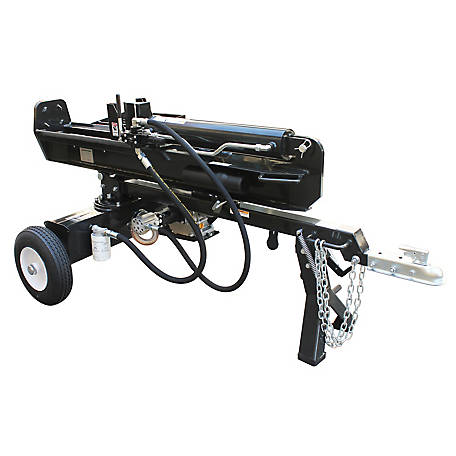 The CountyLine 30-Ton Horizontal/Vertical Gas Log Splitter is regarded as one of the toughest in its class. It is perfect for people who need heavy duty performance to handle large quantities of logs. Built with a durable Kohler CommandPro 277cc engine, it delivers constant power even after decades. And, quick and hassle-free conversion to vertical mode enables the operator to split large-sized logs efficiently. Low Maintenance and outstanding portability make it a convenient machine for all kinds of users. With the long-lasting pneumatic tires, you can move it around easily on both roads and fields.
A Mean Splitting Machine
If you regularly split wood, this high-performance hydraulic log splitter is a fast and affordable way to save time and wear-and-tear on your body. with this impressive piece of equipment, you can easily break up logs with 30 tons of force. It also tilts vertically which is handy when you want to split bigger sized logs.
Easy Maintenance and Mobility
Taking care of your equipment shouldn't be a pain. The Countyline 30-Ton Log Splitter was designed for easy maintenance so you can efficiently clean it on your own. It also comes with durable pneumatic tires that allow you to conveniently haul it down the road or out into the field.
High-Quality Kohler Engine
CountyLine 30-Ton Log Splitter uses a Kohler CommandPro 277cc engine which is known for having both industry-leading power and user-friendly design. The Kohler is extremely easy to maintain with an accessible air filter and sparkplug. On top of that, it has a dual ball-bearing crankshaft design that makes starting up easy and ensures your engine will last longer.
Farm Tested. Out Here Approved
As landowners, we understand that cultivation is a way of life and requires the best possible equipment. Countyline offers an impressive range of farm and ranch products that includes everything from quality tractor parts to affordable sprayers, pumps, tillers, fans, log splitters, and anything else you might need for taking care of life out here. Let's get working.
Kohler CommandPro 277cc engine
30-ton splitting force
10.5-second cycle time
Vertical and horizontal operation
Auto-return valve
Two-stage 19 GPM pump
DOT-approved 4.8 in. x 8 in. pneumatic tires for mobility