Get $20 off log splitters at Tractor Supply when you use code TSCLS20 at checkout. (Valid 9/8/2020-9/27/2020)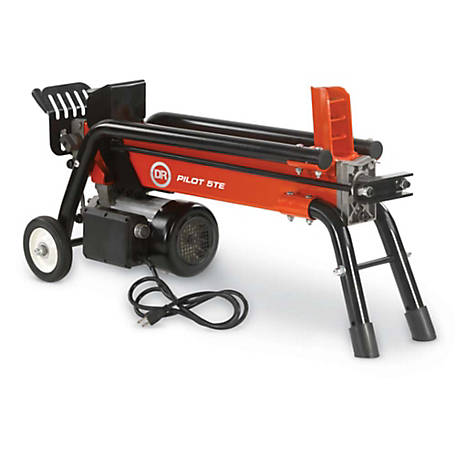 The DR Power Equipment 5 Ton Horizontal Electric Log Splitter is an ideal machine for splitting wood fast and effortlessly. It's very compact in size but delivers enough power to compete with the performance of bigger gas splitters. This Electric/Hydraulic log splitter costs much less than a gas splitter and maintenance cost is very low. Easy setup and operation is another great aspect of this lightweight machine. You can split the most stubborn logs up to 10 inches in diameter and 20.5 inches long in a few simple steps, all day long. Also, it's not limited to only residential usage like other electric splitters in its class, you can use it commercially too.
You can split wood faster and easier with the Electric/Hydraulic DR Wood Splitter. Small in size, but plenty powerful, this machine does the work of much larger gas-powered splitters, but without any of the hassles. And it costs much less, too! Plug the DR Wood Splitter into any standard household outlet (110v) and you're ready to get started. Then just load a log, push a lever and watch it split tough hardwood logs up to 10 in. in diameter and 20.5 in. long in seconds. Split a little at a time or work all day.
Uses any ordinary 110-volt outlet
Splits logs up to 10 in. thick
No assembly required, ships with hydraulic fluid
Engine Warranty 2 yrs Residential Use/1 yr Commercial
Machine Warranty 2 yrs Residential Use/90 days Commercial